Story by Berenyi Editor / February 2, 2023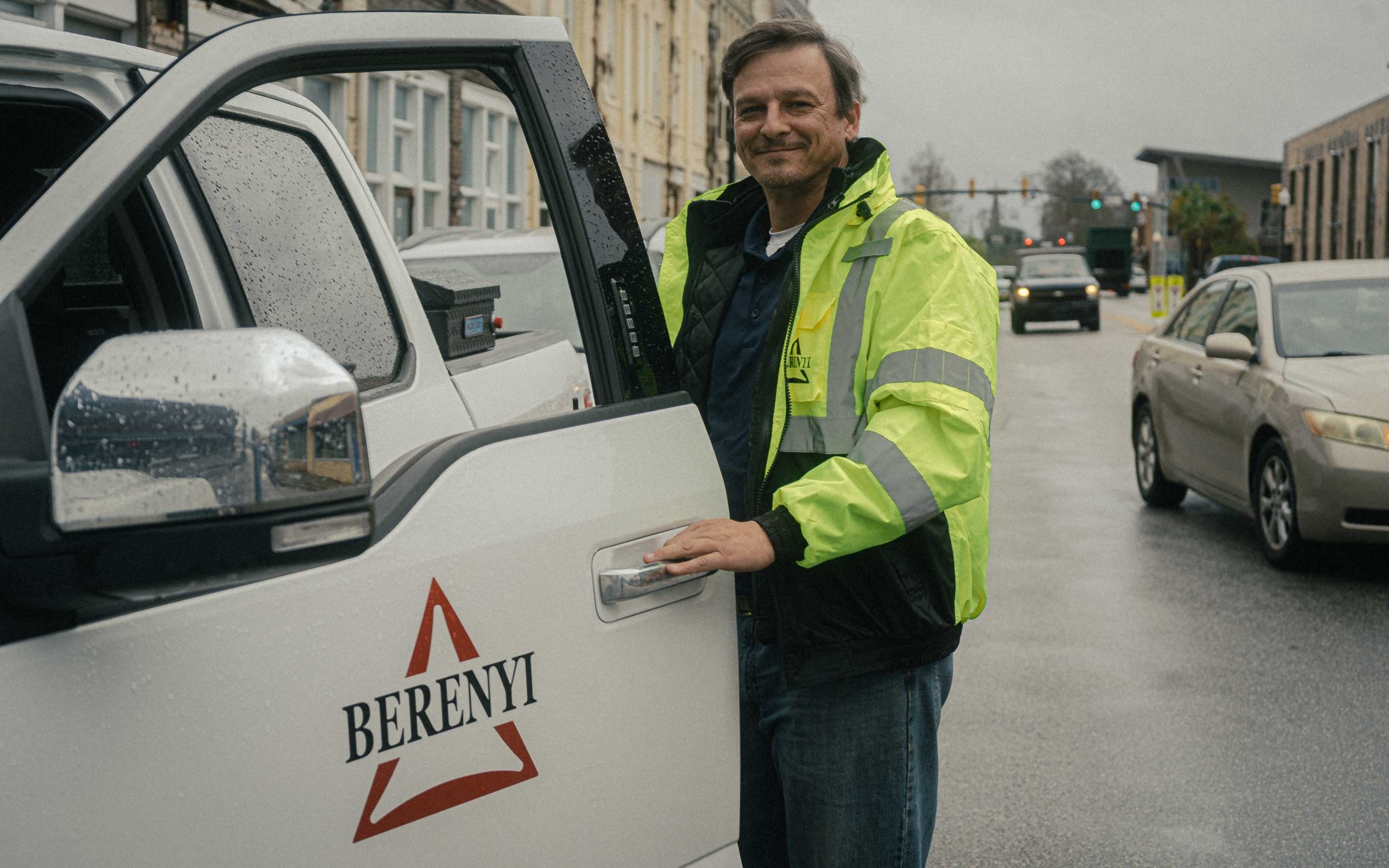 Berenyi Recruits Michael Young to Lead Industrial Construction Projects
Throughout the Midlands and Beyond
Charleston, SC January 30, 2023 – Berenyi, Inc., one of the region's leading industrial design-build firms, recently recruited Michael Young, a Sumter native that grew up with a strong sense of family, gratitude, dignity and discipline, to oversee a range of construction projects, including complex foundational concrete work that require managerial and leadership skills Young attributes to lessons learned from his hardworking parents, teachers and mentors who influenced his youth in Sumter. Headquartered in Charleston, SC, Berenyi operates a satellite office on West Liberty Street in downtown Sumter, which is run by its regional director and Sumter resident Scott Horton, PE. Young will work under Horton's direction; servicing client needs in the midlands and project work that takes Berenyi teams beyond South Carolina's boarders.
A 1997 graduate of Sumter's Lakewood High School, Michael Young enjoyed the freedom of his youth and the great outdoors at Sumter Speedway, which was just beyond his backyard. He secured his first job at the age of 12 driving a tractor and grading the racetrack every Saturday, which ignited his passion for industrial machinery. Additionally, he grew an appreciation for the collaboration and camaraderie that is synonymous with competitive sports and is essential for success on an industrial-build job site. His career in industrial construction commenced in earnest in 1999 when he apprenticed with Mr. Lonnie Hinson and Mr. Leo Morse at Thompson Turner Construction. He moved on and began specializing in metal building and roofing with G&S Metal Buildings, Black Hills Roofing and then J&K Metals. While working a job in Bushy Park, N. Charleston, SC, Young's team was collaborating with Berenyi on a project led by senior superintendent Bob Brooks, also a Sumter resident. Brooks' positive attitude, professional demeanor and brand pride attracted Young's interest and the two forged a relationship that prompted a career move to Berenyi that Young says is to be his last.
"I am at home with Berenyi, literally and figuratively," said Young. "I've learned many lessons on job sites and most of them the hard way. Today, I can honestly say that I am thankful for those experiences. Without them, I wouldn't be where I am. Everything has led me to Berenyi, and I am blessed to be working for a company that has high standards and really lives up to their promises," he added.
Young is currently the superintendent on a concrete construction project in Cayce, SC. Last fall, Berenyi's senior leadership formed a specialty concrete division, which is comprised of experienced, responsive crew members with the flexibility to service its clients regionally and nationally. Services include, design, engineering, demolition, formwork, rebar placement, pouring and finishing. Young is one of the lead members of this newly formed division.
"Recruiting is one of the biggest challenges small businesses face today, and the growing demand for industrial design-build experience is daunting," said Scott Horton Berenyi's regional director. "Finding Michael right here in Sumter was serendipitous. He can grow his career and be available for his growing family working in his hometown. We are thrilled to have him on our team."
When not on a construction site, Young can be found enjoying time with his family, which includes his wife of nearly 15 years, Brandi and their six children. He makes time however for his own hobbies, including racing go karts. He recently took first place in a kart race at 178 Speedway in Pelion, SC.
Since 1989 Berenyi has played an integral role in South Carolina's burgeoning industrial growth, leading design-build projects for local and regional clients as well as global manufactures, including Boeing, Nucor, Mercedes and Symrise. A full-service partner, the Berenyi team includes veteran architects, seasoned engineers, and capable project managers as it takes client projects from concept to completion. Berenyi is headquartered along the banks of the Cooper River in Charleston and has an office in Sumter, SC to better service clients beyond the Low Country. To learn more about Berenyi capabilities and view its project gallery visit www.berenyi.com.
###