Story by Berenyi Editor / May 9, 2022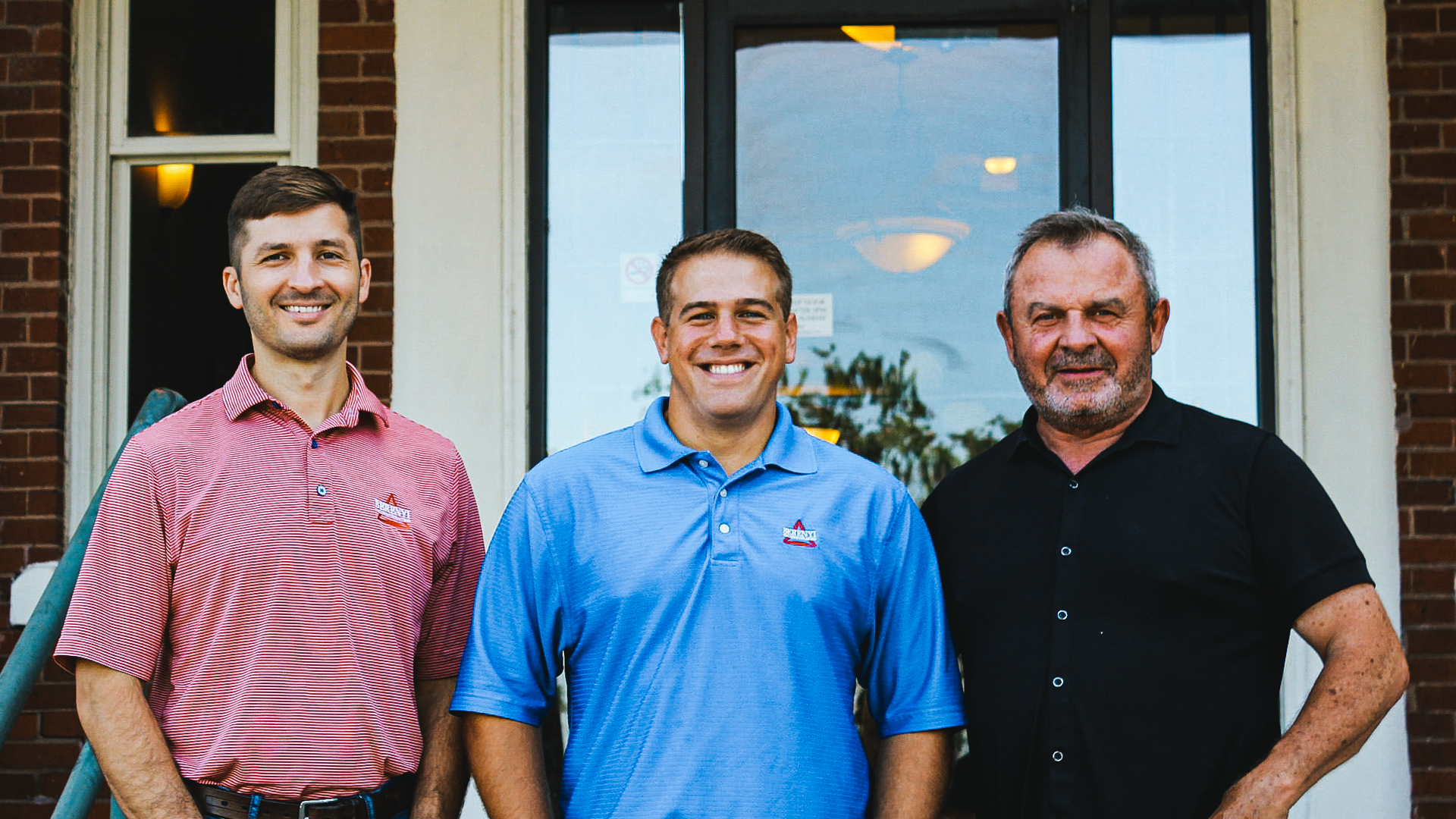 MILLENIAL ANCHORS GRAB THE BATON ON THE UPSWEEP
Recently Ranked the Region's Number One General Contractor, Tony Berenyi Passes the Leadership Baton to a New Generation of Talent Well Prepared for SC's Industrial Growth
(CHARLESTON, SC, May 9, 2022 ) Strategically situated on the South bank of the Cooper River, Charleston's epicenter of industrial commerce and development, Berenyi's innovative team of architects, engineers and builders is now being led by two new captains as Tony Berenyi, PE, the firm's founder, a forward-thinking entrepreneur and philanthropist, transitions guardianship of his namesake design-build firm and passes the baton to a new generation of leaders, Razvan (Raz) Cojocaru, PE and Jordan Behringer, PE; both Charleston residents with impressive CVs and a shared vision of success. Since 1989, Tony Berenyi, recently honored by SC Biz Magazine as the region's top general contractor, has played an integral role in the region's burgeoning industrial development and, today, his company is positioned to accommodate the high demand for development solutions, with two new dynamic, forward-thinking millennials co-leading the Berenyi team as the state braces for record industrial growth.
"When you grow a business from the ground up, over the span of three decades, it becomes more than a career, it becomes a part of your DNA and the whole of your identity," said Tony Berenyi upon reflection. "As I seek out new adventures and continue my journey with a passion for learning and exploring, I want to know my company, my legacy, thrives without my day-to-day input. I am confident Raz and Jordan will continue to serve our clients and the community and adhere to the proven standards I developed that have always served as the bedrock of Berenyi's success."
A Baby Boomer with humble roots and Hungarian immigrant parents, Tony hung a shingle in 1987, launching a design-build firm here in Charleston in pursuit of his American dream. With a degree in civil engineering at The Citadel and his master's in structural dynamics at MIT, the Nation's top-ranked engineering school, Tony was well positioned to succeed. Additionally, he was commission with the US Army Reserve and attended the Engineer Officers School, which prepared him physically and mentally for the long road to success. Within months of opening its doors, however, Tony was called to duty when his reserve status was activated and America initiated Operation Desert Storm. Commanding a 250-man unit, spanning two countries, his bravery and leadership earned him a distinguished Bronze Star. He returned home to Charleston and resumed his career leading a talented team in the design and management of complex industrial and commercial projects at home, across South Carolina and even internationally when his expertise extended to Africa in 2016, where Tony led an infrastructure improvement project in Kenya.
"Those are some big shoes to fill," acknowledges Cojocaru, Berenyi's CO-VP who emigrated to the US in 2006 from Romania in pursuit of a better education and greater career prospects. "But Tony's passionate approach to coaching and laser focus on exceeding client expectations has certainly prepared me for the challenges ahead as I join Jordan in expanding the business, leading our team and continuing the Berenyi Standards legacy."
"I am honored and humbled that Tony recognized my talents and deemed me capable of leading his team with new ideas and solutions, while honoring the traditional, core values he has instilled in us all," said Behringer, CO-VP and Charleston native. "I grew up on construction sites working in my family business here in Charleston, and Tony has allowed me the opportunity to do what I love, exploring innovative solutions and always aiming to exceeded client expectations. He has brought out the best in me."
Originally from upstate New York, Jordan moved to Charleston with his family when he was 12, and in his sophomore year at Academic Magnet High School he became fascinated with chemistry, which piqued his early interest in engineering. A proud Clemson alum, Jordan earned a BS degree in civil engineering from the University as well as his master's degree in civil engineering, with a focus in structural engineering. Behringer joined Berenyi in 2015, and it's his concise communication style, laser sharp focus on exceeding client expectations, and out-of-the-box creativity that catapulted his career from PM to VP in 2021.
Razvan used to call home St. George, Romania, however, he was drawn to the US for its academic excellence and came to the States in 2006 as an international student at the United States Military Academy at West Point where he earned a BS in civil engineering. He then pursued his master's degree in structural engineering at Virginia Tech. Prior to joining Berenyi, Raz worked for an international consulting firm working on various design and construction projects with a focus on the ports and marine industry. Cojocaru joined Berenyi in 2017 as a project manager, and early on showed leadership promise with his engineering acumen, industry expertise and remarkable organization abilities. Tony promoted Raz to VP in 2021 as well, creating a formidable senior management team that would commence his succession plans and enable him to pursue other interests as he nears fulltime retirement.
Impressive degrees, high IQs and an incredible aptitude for math and science are not the only qualities this self-proclaimed quirky trio have in common. They also possess the interpersonal skills required to succeed far beyond the board room. Each of these Low Country residents are proud of Southern traditions and are committed to supporting the community in which they live and work. Whether it's supporting neighboring Mayfield, KT with a "Rolling Restaurant" or supporting the City's under-sourced educational leaders at Simmons-Pickney Middle School, Jordan and Raz will continue to honor Tony's philanthropic legacy and immerse themselves in the fabric of Charleston's business community and beyond. Like the nomenclature that categorizes their peers proclaims, Jordan and Raz are motivated, intuitive, adaptive, creative and openly receptive to feedback, which makes these millennials well suited to lead and succeed.
Today, the Berenyi team calls home the old prison by Columbus Street Terminal, which Tony purchased back in 1999 and beautifully restored while retaining many original features of the legendary jail and preserving a bit of local history. Comprised of several finely appointed offices, Berenyi sold the building in 2020 to the current owner, Town Creek Investors. With a beautiful view of the harbor, offering continuous creative inspiration and an occasional dolphin sighting to entertain, Raz and Jordan will continue Berenyi operations at 49 Immigration Street overlooking the picturesque Ravenel Bridge. For more information on Berenyi Standards and to peruse its project gallery, visit www.berenyi.com.
###